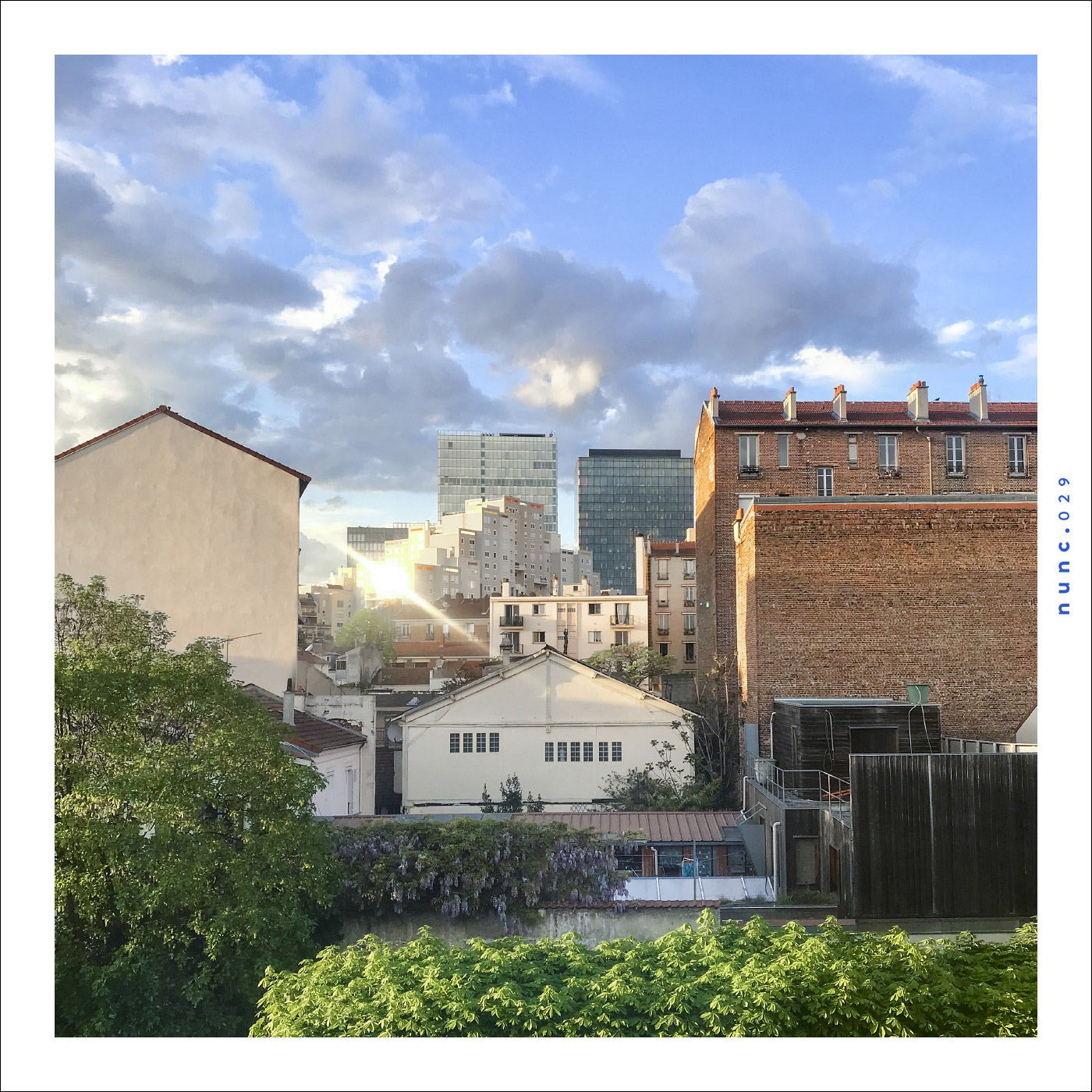 Début mai 2020, dans les derniers jours du premier confinement, je répondais à l'invitation de Manon Welfringer et de Arnaud Guerry pour un live sur Radio PiNode. L'idée de ne pas être en contact avec les auditeurs, de jouer dans le vide sans partager le même espace sonore ne me plaisait pas, j'ai donc décidé d'écrire et d'enregistrer une pièce, en quelques jours sur l'environnement sonore dans lequel j'avais traversé ces mois d'enfermement.
J'ai commencé par écrire une partie de piano sous la forme d'une trame harmonique résonante, on pourrait dire vibratoire qui porte en quelque sorte l'ADN de la pièce et lui donne sa forme. Je l'ai enregistrée le vendredi 8 mai à 19h10 dans mon salon qui est à l'angle de deux rues, une fenêtre ouverte sur chacune d'elles, le piano au centre de l'écoute. J'en captais le son et en écoutait ses moindres détails au casque avec une rue dans chaque oreille. J'ai joué la partie de piano en direct en interagissant avec l'environnement ou plutôt la matière sonore qui arrivait de la rue.
On y entend l'activité reprendre et avec elle la pollution sonore, l'oppression des moteurs, comme si aucune leçon n'avait été tirée de l'épreuve que l'on venait de traverser.
Dans la dernière partie de la pièce, on entend les applaudissements de 20h alors fatigués, ramollis. Un moment qui se vidait alors de son sens autant que de ses participants. Mes voisines, elles, ne lâchent rien et comme chaque soir profitent de cet espace pour scander des slogans libertaires à leurs fenêtres, avec beaucoup de courage. Les inclure dans la pièce était l'occasion de leur rendre hommage.
Le jour suivant, je suis rentré au studio, alors installé dans l'autre pièce de mon appartement, et m'y suis enfermé pendant toute la journée du lendemain. J'ai rejoué la traversée plus de dix fois à chaque fois avec une guitare différente, un son nouveau, sur la totalité de la pièce. J'ai alors tissé des couleurs sur la trame du piano, orchestré en quelque sorte le son de la rue et ce moment du vendredi soir. J'ai édité la journée du dimanche, mixé le lundi et envoyé la pièce à la radio le mardi matin après une dernière écoute.
Témoignage d'un moment, cette pièce est aussi un manifeste sur la façon de percevoir notre environnement, de le rendre musical, de faire ressortir la poésie des choses par notre façon d'écouter, de voir, comme si c'était la seule chose qui nous restait à faire.
At the beginning of May 2020, in the last days of the first lockdown, I responded to the invitation of Manon Welfringer and Arnaud Guerry for a live broadcast on Radio PiNode. I didn't like the idea of not being in contact with the listeners, of playing without sharing the same sound space, so I decided to write and record a piece, in a few days, on the sound environment which I had experienced during these months of confinement.
I started by writing a piano part in the form of a resonant harmonic framework, one could say vibratory, which somehow carries the DNA of the piece and gives it its shape. I recorded it on Friday, May 8 at 7:10 p.m. in my living room which is at the corner of two streets, an open window on each of them, and a microphone at each window. I had all the minute details of the exterior sound in my headphones, with a window in each ear. I played the piano part live by interacting with
the environment or rather the sound material that came from the street.
We hear activity resume and with it the noise pollution, the oppression of motors, as if no lesson had been learned from the ordeal we had just gone through.
In the last part of the piece, we hear the 8pm applause, now tired, lacklustre. A moment which was emptied of its meaning as much as of its participants. Every evening, my neighbors like take advantage of this space to chant libertarian slogans at their windows, very courageously. Including them in the piece was an opportunity to pay homage to them.
The next day, I returned to the studio, then installed in the other room of my apartment, and locked myself there for the whole of the following day. I replayed the soundscape more than ten times, each time with a different guitar, a new sound, over the entire piece. I then wove in colors on the frame of the piano, orchestrating somehow the sound of the street and that moment of Friday evening. I edited on Sunday, mixed on Monday and sent the piece to the radio on Tuesday
morning after a final listen.
Testimony of a moment, this piece is also a manifesto on how to
perceive our environment, to make it musical, to bring out the poetry
of things by our way of listening, of seeing, as if it were the only
thing that was left for us to do.
Richard Comte : composition, piano, electric and acoustic guitars, field recording
Recorded, Mixed and Mastered by Richard Comte in May 2020
Graphic design by Studio Punkat
Photo by Sara Naviganti